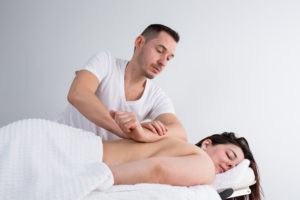 Reduces Stress And Anxiety
Studies have shown that massage can increase the production of a hormone called oxytocin associated with positive emotions

Treats Back Pain
Studies have shown that the effect of deep tissue massage significantly reduces chronic lower back pain

Helps Manage Labor Pain
Studies have supported the claim that massage therapy can be an effective way to reduce labor pain during pregnancy. Women who received massage therapy have reported decreased depression, anxiety, and leg and back pain.

Decreases Arthritis Symptoms
Massage therapy can lead to improvements in pain relief, stiffness, range of motion, hand grip strength and overall function of the joints.


Muscle Rehabilitation In Athletes
Massage can provide several benefits to the body such as increased blood flow, reduced muscle tension, and an increased sense of well-being. Massage produces positive effects on muscle soreness, recovery from injury and can help with performance, recovery, and muscle injury prevention.


Alleviation of Fibromyalgia Symptoms
Massage can be an effective way to manage fibromyalgia pain.


Breaks Down Scar Tissue
Scars can occur externally on the skin as well as internally after a muscle or ligament injury. Deep tissue massage can help break down internal and external scar tissue and help in muscle recovery.